Podcast: Play in new window | Download
Subscribe: iTunes | Android | RSS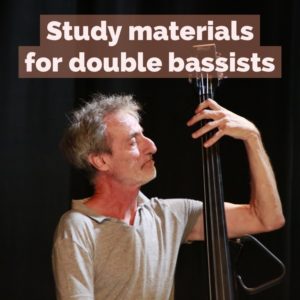 The following are materials that I recommend for both classical and jazz double bassists.  Clicking through many of these links will help to support the blog and podcast, which I really appreciate!
In addition to the links below, I offer up quite a few free resources on my downloads page.
Classical Double Bass Materials
These are my "desert island" classical double bass technique books.  I've worked through a lot of various systems through the years, but these are what keep landing on my music stand:
Method Books
Vance, George: Progressive Repertoire for Bass vol. 1, 2, and 3 – The Vance books have become the gold standard in young bass education.  These three volumes take players from the very first notes on the instrument through the Dragonetti Concerto.  Highly recommended. Here's a podcast excerpt featuring Gaelen McCormick talking about the benefits of teaching with Progressive Repertoire.
Vance, George: Vade Mecum – George Vance's Vade Mecum scale system is a great technical complement to the Pregressive Repertoire series.
Simandl: New Method for Double Bass – The standard for over 100 years in double bass education.  There's a lot of debate in the bass world about how to actually teach this material, but it remains an extremely important text and is a part of the education of most bass players.
Rabbath, Francois: New Method for Double Bass – This method took the double bass world by storm when it was first publshed.  Introducing a set of six positions that utilize pivoting to reach notes was quite a departure from other technical approaches.  Even though this book is decades old, it is still making waves as a "radical" text.  It's an extremely valuable book and will change your thinking about the bass.
Petracchi: Simplified Higher Technique for Double Bass – Petracchi's technique book is another pivotal work in bass technique.  This book organizes the left hand into a precise measuring device, with diatonic, semi-chromatic, and chromatic positions that use the thumb as an anchor point. This book will change your upper position approach and open up many new possibilities.
Sevcik School of Bowing Technique – This valuable violin bowing technique book has been adapted for the bass.  The Sevcik bowing book presents various bow strokes and techniques in a logical and organized fashion and is one of the quickest ways to advance your right hand technique.  Most major bass teachers say that students are about two years behind in the bowing technique department compared to their left hand technique.  This book is great for fixing that disparity.
Zimmerman: Contemporary Concept of Bowing Technique – Also known as the "A and E" book due to the way it's notated (you'll see what I mean if you order it), this book is an in-depth analysis on exactly how the bow works in various types of strokes.  A classic text–highly recommended!
Flesch, Carl: Scale System for Double Bass – If you can figure out how to effectively practice this book, it could be your greatest "secret" technical weapon ever.  Covering scales, arpeggios, and double-stops in one, two, and three octave combinations, these exercises can be mind-bogglingly complex, but it you persist and find a way to make these materials work, the payoff in intonational security and technical facility can be tremendous.
Double Bass: The Ultimate Challenge – Jeff Bradetich's magnum opus on double bass technique is an incredibly well put together resource on all things double bass.  Jeff is a master teacher and provides an invaluable resource in this visually appealing book.  Here's a YouTube video I did with Jeff several years ago about the book.
Etudes:
Simandl: 30 Etudes – This is another "gold standard" educational text for double bassists.  These etudes start out quite simple and increase in difficulty substantially throughout the series.  Double bassist Gaelen McCormick has been performing and teaching these 430 Etudes on her YouTube channel.  This is an incredible resource–check it out!
Sturm: 110 Studies – I've been using this book for years.  I find the etudes to be melodic, to the point, and beneficial to my overall technique.
Storch-Hrabe: 57 Studies Vol. 1 – This is another classic text for bass, though I've never really connected with these etudes as much as other bassists.  Still, they've been used for years and provide a lot of benefit.
Bille: New Method for Double Bass – This is another much-loved series of method books that I haven't used much in my own practice.  But so many people have recommended it to me over the years that I feel obligated to list it here.
Solo Repertoire:
This list could easily be a mile long!  Here are some of my favorite solo works that I teach and play, arranged roughly in oder of difficulty:
Orchestral Literature:
Oscar Zimmerman Series of Complete Bass Parts
Duets/Trios/Quartets:
Twelve Classical Duets
24 Classical and Modern Duets
Telemann: Canonic Sonatas (Trombone Edition)
Bottesini: Passione Amorosa
Jazz Double Bass Materials:
Methods and Materials:
Aebersold: Scale Syllabus (free download PDF) – essential for all jazz students
Aebersold: FREE Jazz Handbook (free multi-part dowload PDF)
Swing Practice Track MP3 (about 25 minutes of swing drums for practicing)
_________________________
Reid, Rufus: The Evolving Bassist
Reid, Rufus: The Evolving Bassist DVD
Transcriptions by Rufus Reid (PDF downloads from Rufus Reid's website–these links take you there)
Almost But Maybe
Celestial Dance
City Slicker
Come Out And Play
I Can't Explain
It's The Nights I Like
It's Magical Look In Your Eyes
Ode To Ray
Perpetual Stroll
Reminiscing
The Meddler
When She Smiles Upon Your Face
__________________________
Walking Bass Line Construction by Mauro Battisti (free download PDF)
This wonderful series is hosted by Talkbass.com – you will need to sign in to download it. If you are not a member, create an account. Talkbass.com is a wonderful site, and it is free to join.
Part 1
Part 2
Part 3
Part 4
Part 5
__________________________
Brown, Ray: Method
Aebersold: Play-Along Series – start with Vol. 1 and work through series
The Jazz Theory Book
The New Real Book Vol. 1
The New Real Book Vol. 2
The New Real Book Vol. 3
The Standards Real Book
Concepts for Bass Soloing
Coker: Patterns for Jazz
Inside the Brazilian Rhythm Section
David Baker Books
Aebersold Bass Publications
Free Double Bass Podcast!
If you haven't checked out the Contrabass Conversations podcast before, I'd love to have you give it a listen!  It has been "on the air" for the past ten years and has hundreds of interviews with bassists like Ed Barker, Alex Hanna, Ron Carter, Gary Karr, Paul Ellison, and many others.  Lots of good advice on practicing materials, career advice, etc.
P.S. We also have a free Contrabass Conversations app for iOS and Android!
Other Online Practicing Resources:
Audacity – a great FREE sound recording and multi-track editing program
Classicalmusicarchives.com (comprehensive MIDI orchestral repertoire)
MusicTheory.net – great online music theory compendium
Getting the Most Out of Your Practice Session (Bill Koehler)
Inner Game of Music
MIDI Library for Solo Bass
more solo bass MIDI
more MIDI files
MIDI World
Hans Sturm's Double Bass Audition Resources (audio and text bass resources)
Electric Bass Downloads Page
Douglas Yeo Trombone Home Page (not a bass page, but full of valuable career and practice info.)