Podcast: Play in new window | Download
Subscribe: iTunes | Android | RSS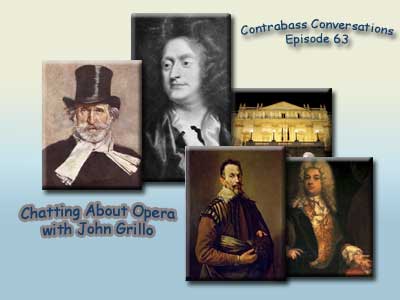 Contrabass Conversations regular contributor and classicalmusicnews.tv blogger John Grillo and I recorded a follow-up episode to our recent Opera Excerpt Breakdown episode. In this episode we chat a little more generally about opera bass playing and how it differs from orchestral bass playing.
John has played for numerous opera companies in the past, including the Pittsburgh Opera and Spoleto Festival die Due Mondi in Italy. He recently performed Wagner's Ring Cycle as the only bass player (!). Learn more about John on his Contrabass Conversations page, check out his virtual recital, listen to the Opera Excerpt and Orchestra Excerpt breakdowns, and be sure to visit his blog at classicalmusicnews.tv.
Join the newsletter
Subscribe to get our latest content by email.