Podcast: Play in new window | Download
Subscribe: iTunes | Android | RSS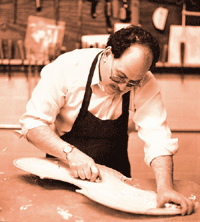 We're wrapping up our chat with Barrie Kolstein this week on the Contrabass Conversations show. We began this interview on episode 70 of the program, and in it we discussed Barrie's father Samuel Kolstein and how he got into the bow making business, the progression into the bass making business, and the development of the Kolstein line of products (including rosin, stings, and cases) that bassists worldwide use today.
Barrie discusses Kolstein rosin, challenges facing modern double bass retailers and luthiers, advice on buying a double bass, and how the business has changed in the past few decades. Visit the Kolstein shop online at www.kolstein.com, and check out our co-host John online at www.classicalmusicnews.tv. Enjoy!
About Barrie Kolstein:
1967-1971

State University of New York at Albany
Obtained a Bachelors of Science Degree in Business Administration and Marketing.

1967-1973

Formally studied the Double Bass under the pedagogues: Frederick Zimmermann, Assistant Principal of the New York Philharmonic; Orin O'Brien, New York Philharmonic; Georges Andre, Metropolitan Opera; Robert Gladstone, Principal Bassist Detroit Symphony; Samuel Hollingsworth, Principal Bassist Pittsburgh Symphony Orchestra; David Holland, renowned Jazz artist.

1971-1974

Served in formal apprenticeship for instrument and bow restoration, construction and appraisals, under the expert auspices of renowned violin and bow maker, restorer, and appraiser, Samuel Kolstein.

1974-1978

Served as staff instrument and bow restorer as well as making numerous new violin and celli with Samuel Kolstein.

1979

Promoted to head violin master in the shop of Samuel Kolstein.

1981

Assumed full business responsibilities for operating all aspects of Samuel Kolstein & Son, Ltd. and Kolstein Music, Inc.

1981 to present

Head violin maker, restorer, and appraiser with a staff of nine violin makers working under his supervision.
Published numerous technical articles on restoration and appraisals in the International Society of Bassists with feature article published in the Strad, February 1991; presently editor of the "Luthier Corner" in the International Society of Bassists magazine restoration and repair forum; published regularly in the Double Bassist magazine and the Strad magazine, both of London, England, since 1996. These articles have ranged form interviews with makers and performers, technical articles on repair/making, and expert appraisal articles on historic master makers; featured in the violinmaking segment of Robin Lehman's documentary, Young Peoples Guide to the Orchestra; contacted to appear in the upcoming educational video on "Careers in Music". On the expert appraisers staff of Art Conservation fine arts adjusters as a String Instrument and Bow Expert.
Barrie Kolstein has completed well over one hundred instruments (Violin, Viola, Cello and Bass Violins) utilized by renowned players including Jeffrey Turner, Pittsburgh Symphony; Robert Gladstone, Detroit Symphony; James Van Demark, Professor of Double Bass Eastman School of Music and world famous soloist; Charles Urbont, Metropolitan Opera; James Clute, Minnesota Symphony Orchestra; David Sheets, Baltimore Symphony Orchestra; Lou Norton, New York Philharmonic; Caitlyn Kamanga, Hong Kong Philharmonic;, Scott Haig, Assistant Principal Bassist, Cleveland Orchestra; Hienrich Joachim, renowned soloist and former member of the New York Philharmonic; Lew Norton, New York Philharmonic; Barbara Yendell, Hong Kong Philharmonic, to name a few! Mr. Kolstein is a member of:
Appraisers Association of America, 1994 to present
International Society of Bassists, 1979 – present
Violin Society of America, 1980 – present
Viola Congress, 1983 – present
Cello Congress, 1982 – present
Listed in The Violin Makers of the United States, by Thomas J. Wenberg, Mount Hood Publishing Company, 1986.
Learn more about the Kolstein shop at www.kolstein.com
Music Provided by:
Special thanks to Daniel Chmielinski for technical assistance – www.carsleuth.net
Show Notes:
www.kolstein.com – Kolstein Music, Inc. – Kolstein & Son, Ltd
www.musicfreight.com – shipping and musical instrument transport company recommended by Barrie – run by musicians for musicians!
Highly Recommended
Andrew Chilcote (New England Conservatory) wrote
at 5:40pm on March 4th, 2008
douglas mapp makes transcriptions into orchestral/solo tuning of most of the standard repertoire (including the hindemith sonata). There isn't a midi file of it, but there is a transposed piano part to orchestral tuning
http://www.douglasmappmusic.com/display_transcriptions.php
Ira Gold, a member of the National Symphony bass section and a previous guest on the Contrabass Conversations podcast, is now on faculty at the Catholic University of America's Benjamin T. Rome School of Music in Washington, D.C.
The school is accepting late applicants for Fall of '08. If interested, students can either view information at music.cua.edu or contact Ira directly at irajgold@gmail.com. The school offers Bachelor, Master, and Doctorate degrees and also students have the option of being enrolled part time.
Catholic also welcomes videotapes, DVD's and CD's for applicants should they not be able to come to a live audition in the next month or so on such short notice. Contact Ira for more information or visit the website at the above URL.
____________
Release Date: 3/29/08
Length: 68:46
listen by phone: +1 (360) 227-5632
call our comment line (24 hour voice mail): +1 (206) 666-6509
Website: www.contrabassconversations.com
E-mail: feedback@contrabassconversations.com
Blog: www.doublebassblog.org
Podcast T-shirts, hats, and more: www.cafepress.com/doublebass
MySpace: www.myspace.com/cbcpodcast
Facebook: www.facebook.com/group.php?gid=17621298264
Theme song by Eric Hochberg: www.erichochberg.com
This show is brought to you by TalkBass.com, the largest community of bassists on the Internet. Join in the conversation at talkbass.com/cbc.
Check out our jazz forums at JazzDoubleBass.com.
Join our Facebook group and share videos, chat on discussion boards, leave ideas for the show, and interact with other bassists!
To get Contrabass Conversations downloaded automatically to your computer (for free!), you can subscribe in iTunes:
Click here to subscribe through e-mail or through another program besides iTunes
Join the newsletter
Subscribe to get our latest content by email.