Podcast: Play in new window | Download
Subscribe: iTunes | Android | RSS
We're featuring a video episode of double bassist Guy Tuneh on this week's episode of Contrabass Conversations. Guy has been featured many times on the podcast in the past, and it's a real pleasure to hear his fine playing again on the show. This episode is being released in both audio and video versions. You can check out our previous episodes featuring Guy Tuneh in our archives.
We're also featuring listener feedback, bass news, a link of the week, and much more. Enjoy!
Video not working? Click here to view it or download it.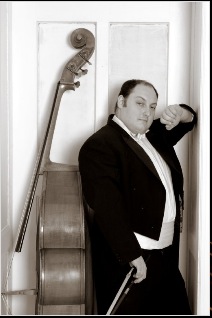 Guy Tuneh bio:
Guy Tuneh has been studying in Germany and performing internationally. He is noted for his intense musical involvement and phenomenal performances, combining virtuosity and musicality. Mr. Tuneh has been active as a solo performer, chamber musician, orchestra and opera bassist. Having begun as a violin student at the age of 6, he was drawn to the tone color of the double bass, joining Prof. Michael Klinghoffer's bass studio at the S. Rubin Academy of Music at Tel Aviv University. Later, he continued his bass studies under Prof. Barbara Sanderling at the Hochschule Für Musik "Hanns Eisler" in Berlin, he is now working towards a Solo Artist Diploma with Prof. Wolfgang Güttler at the Hochschule für Musik in Basel. Additionally, he took master classes with Yoan Goilav, Gary Karr and Miloslav Gajdos. His orchestra performances included engagements as a principle bassist with the Berliner Kammeroper, Ensemble "Echo" in the Deutsche Staatsoper Berlin, Theater Erfurt, and most recently with the Solistes Européens Luxembourg. As an orchestra bassist Mr. Tuneh performed under such distinguished conductors as Kurt Sanderling, Zubin Mehta, Sir Simon Rattle, Nicolas Harnoncourt and Christian Thielemann. Winner of a Villa Musica Scholarship, Guy Tuneh has performed all over Germany as a chamber musician and a soloist to great acclaim, and participated in chamber music and solo performances recorded by the SWR (Southwest German Radio). These performances included collaborations with Ulf Rodenhäuser, Guy Braunstein, Christian Altenburger, Wen-Sinn Yang, Martin Ostertag, Hermann Bäumer, and other distinguished musicians.The "Allgemeine Zeitung" described his performance as youthful and exuberant.
Link of the Week:
Music Provided by:
Eric Hochberg –www.erichochberg.com
Guy Tuneh – www.guytuneh.com
Special thanks to Daniel Chmielinski for technical assistance – www.carsleuth.net
Show Notes:
Release Date: 7/19/08
Length:13:27
listen by phone: +1 (360) 227-5632
call our comment line (24 hour voice mail): +1 (206) 666-6509
Website: www.contrabassconversations.com
E-mail: feedback@contrabassconversations.com
Blog: www.doublebassblog.org
Podcast T-shirts, hats, and more: www.cafepress.com/doublebass
MySpace: www.myspace.com/cbcpodcast
Facebook: www.facebook.com/group.php?gid=17621298264
Theme song by Eric Hochberg:www.erichochberg.com
This show is brought to you by TalkBass.com, the largest community of bassists on the Internet. Join in the conversation at talkbass.com/cbc.
Check out our jazz forums at JazzDoubleBass.com.
Join our Facebook group and share videos, chat on discussion boards, leave ideas for the show, and interact with other bassists!
To get Contrabass Conversations downloaded automatically to your computer (for free!), you can subscribe in iTunes:
Click here to subscribe through e-mail or through another program besides iTunes
Join the newsletter
Subscribe to get our latest content by email.