Podcast: Play in new window | Download
Subscribe: iTunes | Android | RSS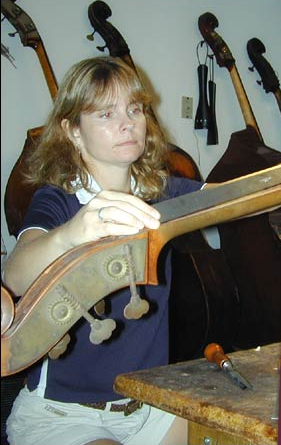 We're featuring an interview with Michelle Fiore this week on Contrabass Conversations. Michelle is the proprietor of Classic Contrabass, a shop in Wheeling, Illinois catering exclusively to double bassists. I've known Michelle for many years–she was involved for many years with the University of Wisconsin-Whitewater Winter Bassfest that I started several years ago. She does great setup and repair work, and she has an excellent selection of double basses for sale as well as quality rental instruments for students.
Michelle had the opportunity to visit the Maggini exhibition in Italy a couple of years ago, an event which featured Dragonetti's Gasparo da Salo bass from 1590 as well as several other Maggini double basses. She wrote an article about this exhibition last year for the International Society of Bassists' Bass World journal, and she discusses in detail some of her observations about these remarkable instruments in this interview. We also chat about instrument setup and how it differs for classical and jazz bassists, sound post adjustments, and many other topics.
Join the newsletter
Subscribe to get our latest content by email.