Podcast: Play in new window | Download
Subscribe: iTunes | Android | RSS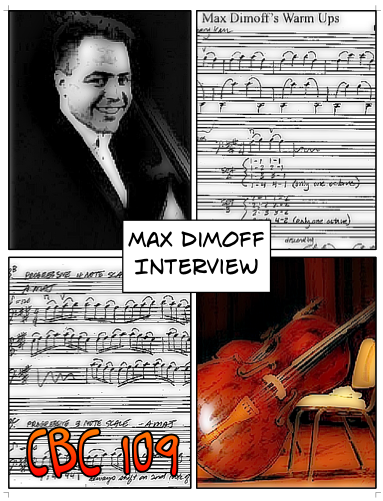 Co-host John Grillo from classicalmusicnews.tv and I are interviewing Cleveland Orchestra Principal Bass Max Dimoff this week on Contrabass Conversations. Before winning his job with the Cleveland Orchestra, Max served as Principal Bass of the San Antonio Symphony and Section Bass for the Grant Park Symphony and Seattle Symphony.
In this first segment of our interview with Max, we delve into his approach to technique on the double bass, focusing on his warm-up exercises for the double bass. You can download this packet through the following link and follow along with the exercises as we discuss them with Max.
Max's Warm-Ups
Max Dimoff Warm-Up Packet (PDF)
In addition to serving as Principal Bass with the Cleveland Orchestra, Max is on faculty at the Cleveland Institute of Music along with Jeff Bradetich, his former teacher from Northwestern University. Max and Jeff team teach the CIM bass studio in a very interesting arrangement which we discuss during our interview.
Max's colleague Jeff Bradetich recently appeared on Contrabass Conversations as well. Here are links both to Jeff's interview and to Jeff's own technique packets, which may be interesting to delve into for listeners as well:
More interviews co-hosted by John Grillo:
Join the newsletter
Subscribe to get our latest content by email.