Podcast: Play in new window | Download
Subscribe: iTunes | Android | RSS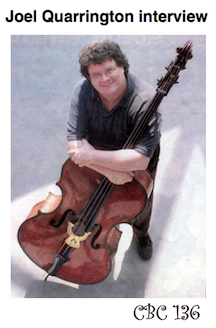 We're featuring an interview with and music from Joel Quarrington this week of Contrabass Conversations. Joel is the former Principal Bass of the Toronto Symphony and currently serves as Principal Bass for the National Arts Centre Orchestra of Canada. In addition to his orchestral duties, Joel maintains an active career as a solo and chamber artist, touring internationally in this capacity and performing a wide range of repertoire.
This week's episode begins with a recording of Joel performing the fourth movement from the Sonata For Solo Contrabass by Weinberg, and the episode concludes after the interview with Joel's performance of the Bottesini Elegy. Both of these tracks are from his new album Garden Scene. Learn more about this album and Joel's numerous other projects at www.joelquarrington.com.
Join the newsletter
Subscribe to get our latest content by email.