From George Amorim–one of the clinicians we had for the Chicago Bass Festival: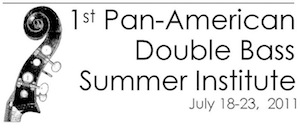 Dear Members of the Bass Community,
Saludos from South Texas!
I would like to share with you some of what is coming up in the next few days.
On July 18-23 we will host the first edition of the Pan-American Double Bass Summer Institute.
It is very exciting to host an event that lasts for more than a couple of days – in comparison to our already traditional ¡Viva el Bajo! South Texas Double Bass Masterclass in the spring semester.
This time around our students will have plenty of time to experience in depth the different aspects of playing the bass, as there will be technique classes, scales and arpeggios sessions, solo and orchestral master classes as well as Texas All-State workshops and individual coaching sessions with a resident pianist.
Even more exciting is being able to host Tony Parry as resident guest artist. Tony is a past-winner of the ISB Orchestral Competition and is currently a member of the Louisiana Philharmonic and instructor at Tulane University. Tony will perform a solo recital during the Institute and will work with the students individually and in group.
Save the dates of July 18-23 and encourage your students to apply! Check out http://vivaelbajo.org/Summer_Institute.html
The enrollment is limited and there are a few endowed scholarships available!
Thank you,
George Amorim