Check out this April 2010 article from Strings Magazine about The American String Project: The Write Stuff
New Explorations for Chamber Music with Double Bass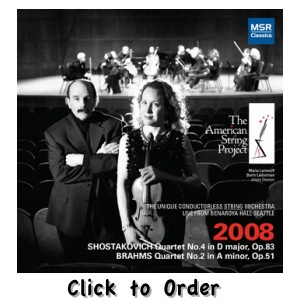 featuring University of Washington double bass professor Barry Lieberman
---
Listen to Barry's interviews on the Contrabass Conversations show and learn more about TASP:
---
(click below to listen):
-Beethoven (Arr. Lieberman) String Quartet Op. 18 No. 4 – Allegro

-Shostakovich (Arr. Lieberman) String Quartet No. 12 Op. 133 – Allegro Moderato
-Sarasate (Arr. Chase): Romanza Andaluza

-Dvorak String Quartet No. 9 in D Minor – Adagio
---
Download reviews of The American String Project:
"The American String Project may be Seattle's best-kept secret, but this follow-up to its critically acclaimed 2008 recording of Bartók's String Quartet No. 1 in A minor, Op. 7; and Schubert's String Quartet No. 14 in D minor, D. 810, "Death and the Maiden" (MSR Music 1269) shows once again that this world-class 15-piece conductorless string orchestra is deserving of decidedly more attention.
The talent-laden ASP—which on this album includes violinists Jorja Fleezanis, Arnaud Sussman, and Stephanie Chase; violist Mara Gearman; and cellists Julie Alber and Arek Tesarczyk, among others—boasts a shifting lineup that meets annually for a week of rehearsals, performing, and recording string-orchestra arrangements of standard chamber works.
In 2008, ASP co-artistic director and double-bassist Barry Lieberman, who heads up the project with violinist Maria Larionoff, arranged three chamber works for string orchestra: Shostakovich's String Quartet No. 4 in D major, Op. 83; Brahms' String Quartet No. 2 in A minor, Op. 51; and Dvo?ák's String Quartet No. 9 in D minor, Op. 34. Each is especially well suited to this type of expanded treatment.
An avid fan of Arturo Toscanini, Lieberman's charts are first and foremost designed for inclusion of a bass part, and he deftly adds an emotional wallop to the music without sacrificing the integrity and intimacy of the familiar quartet ensemble parts. Each piece reflects the rich, sonorous bottom-heavy tone for which the ASP is known.
Larionoff leads the Shostakovich piece, Fleezanis leads the string orchestra on the Brahms work, and Chase leads on the Dvo?ák. Lieberman has called the fourth movement of the Dvo?ák quartet "the single most beautiful slow movement of any work I know," and both his arrangement and the players do it justice. To date, ASP has recorded four of Shostakovich's 15 string quartets and intends to record the rest.
With news of the ASP spreading fast, you owe it to yourself to catch up to its amazing music, just so you can say you heard them when."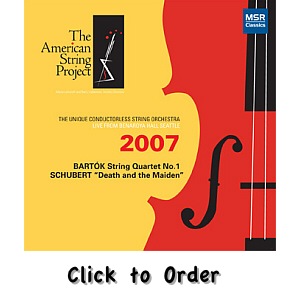 Strings Magazine ~ 2009
"Judging from what I heard on this disc, The American String Project 2007, Barry Lieberman's arrangements of Schubert's Quartet No. 14, "Death and the Maiden" and Bartok's Quartet no. 1 in A Minor, are stunningly conceived…Both the Schubert and the Bartok Quartets are notable for their rich, orchestra-like sonorities, and these arrangements bring that aspect of the music to the fore. So do the performances, which give credibility to the group's slogan, "a virtuoso in every chair." As often as I've heard "Death and the Maiden," this version of Schubert's masterwork really gave me goose-bumps, from the unrelenting triplet figurations in the opening Allegro to the hauntingly beautiful melody in the Andantino, and finally the demonic finale that gallops by like a vision of ghostly death. The textural clarity is beautiful here…listen for violinist Ani Kavafian's eloquent solos in both…The effect of this performance [of the Bartok] by the members of the Project is nothing less than sensational."
Atlanta Audio Society ~ March 2008
"The American String Project is a unusual idea made even more special by the quality of its execution. Founded by double bassist Barry Lieberman and violinist Maria Larionoff, the 15-member string orchestra opened its new season Wednesday night at Nordstrom Recital Hall with substance and panache. The ensemble is composed of first-class musicians from around the country who play together only once a year without a conductor and change places for every work."
- Seattle Post Intelligencer, 2008
"The American String Project does constantly what other musical groups do only occasionally: perform standard quartet and quintet literature in expanded form. This conductorless 15-piece ensemble kicked off its seventh season Wednesday night with a program of Haydn, Shostakovich and Brahms. [...] The taste in all these arrangements by bassist and co-artistic director Barry Lieberman is uniformly brilliant. So also was the arrangement by violinist Stephanie Chase of an encore piece, in the flamboyant style of Paganini's Caprices, that she calls "Capricious Chase." We felt lucky that this caprice happens in Seattle every year."
- Seattle Times, 2008
"Strong, rich, resonant and smooth, luscious to hear."
- Seattle Post Intelligencer, 2007
"And it really is a string orchestra, not just an assortment of 15 talented players…They listen to each other and respond to what they hear; they play with tremendous intensity and focus. The results are exciting."
- Seattle Times, 2007
"It is the best string orchestral playing TC has heard in decades. Virtuosic not only in precision but in expressive nuances."
- Turok's Choice, 2007
"In the first movement of the Beethoven the targeted attacks of the sforzandos are particularly virtuosic. The minuet is perfectly poised and the last movement invigoratingly fleet. This remarkable performance [of the Shostakovich] has a compelling sweep that might well be envied by many a conventional string quartet. Three Sarasate pieces…[are] accomplished here with great elan. The technical values of this live
performance recording are superb. Let's hope there will be more recordings from these imaginative, accomplished musicians.."
-Fanfare, May / June 2008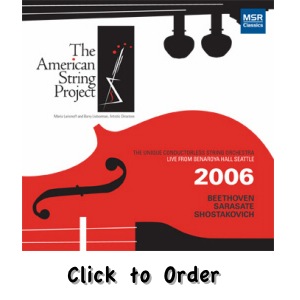 "[This is] the best string orchestral playing TC has heard in decades. Virtuosic not only in precision (parts of the Beethoven finale are reminiscent of Toscanini's recording of Paganini's Perpetual Motion with the entire first violin section of the NBC ) but in expressive nuances. If this group ever gets around to recording the standard string orchestra repertory…the results – if anything like the playing here – should be spectacular."
-Turok's Choice, December 2007
"The American String Project…hums seamlessly through a program of Beethoven, Shostakovich and Sarasate, both intimate and virtuosic at once. The Beethoven C Minor enjoys a muscular, lithe realization under leader Eriko Sato. Forward motion is the order of the performance, and the two interior movements gain authority and girth in the arrangement for 15 strings. The dark, deep colors of the lower strings add a romantic ethos to Beethoven's natural tendency to make C Minor a surging modality of expression. The playful sinews of the final Allegro in this medium align Beethoven both with Rossini's string sonatas and the later string serenades of Dvorak and Suk. Leader Maria Larionoff, violin shapes the massive Twelfth Quartet of Dmitri Shostakovich, whose two-movement structure resembles Beethoven's Op. 111 Piano Sonata. Like Barshai's arrangement of the Eighth Quartet, Lieberman's distribution of parts amplifies Shostakovich's angular polyphony and sullen, martial pessimism. When the texture thins, we hear echoes of Stravinsky's neoclassic ballets, Orpheus and Apollo."
-Audiophile Audition, September 2007
About The American String Project:
The name itself gives the first hint: not the American String Orchestra, or the American String Ensemble, but the American String PROJECT. Think "project" in its one of its prime connotations– a plan in development, communal in nature, defining and refining its goals as its members engage—and you get a sense of the fluidity and camaraderie that are the hallmarks of this group.
The American String Project is an annual phenomenon where diverse performers and modes and visions mingle to create something that did not exist before: Fifteen string players from around the world gather in Seattle to perform works from the chamber music repertoire that have been arranged specifically for the group. The intimacy of the chamber music articulation, with its interplay of tone and color, is enriched and deepened, taking on the tonalities of a string symphony—but always with the proportion and exchange that characterizes the great chamber works.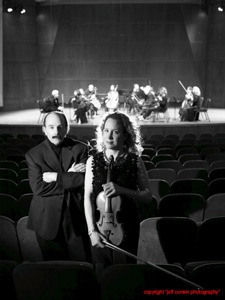 Two further differences are salient: First, the Project draws from the world's premier string players: soloists, concertmasters, chamber music artists, teachers. Moreover, this ensemble performs without a conductor. The group is anchored by its artistic directors, Barry Lieberman and Maria Larionoff, but its modus operandi is collaborative. Each work on a season's program is assigned a "leader," who together with all the musicians determines how best to shape and present the performance. From work to work, the players' positions rotate, to egalitarian effect: at times even a musician who sits exclusively in the concertmaster's chair in her or his regular job may occupy in the last chair in the second violins.
The result of these differences, as audiences and critics over the past five seasons have discovered to their joy, is music making of thrilling vitality and communication– performance not as reproduction but as translation. From the introspection of Mozart to the energy of Beethoven and the poignancy of Mendelssohn; from the passion and tension of Prokofiev and Shostakovich to the late-twentieth-century yearning of Vasks, from Britten's Britain to Sarasate's Spain to Barber's America: those who hear the American String Project have the privilege of experiencing performances of music at once familiar—but wonderfully new.
Complete Repertoire of The American String Project
All works arranged for string orchestra by Barry Lieberman unless otherwise noted
2002 Inaugural Season
Performed May 10-12
FJ Haydn, Quartet in D Minor Opus 76
A Dvorak, Serenade for String Orchestra Opus 22
?D Shostakovich, Quartet #3 Opus 73
A Dvorak, Quartet #12 Opus 96 "American"
F Mendelssohn, Sinfonia #12 in G Minor
M Ravel, Quartet in F Major
WA Mozart, Quintet in G Minor K 516
L Janacek, Idylla for String Orchestra
J Brahms, Sextet in G Major Opus 36
2003
Performed March 12-15
L Cherubini, Quartet # 3 in D Minor
F Mendelssohn, Quintet # 2 in B flat Major Opus 87
S Prokofiev, Quartet # 2 in F Major ("Kabardinian") Opus 92
WA Mozart, Quartet #19 in C Major ("Dissonant") K 465
LV Beethoven, Quartet #11 in F Minor ("Serioso") Opus 95
PI Tchaikovsky, Serenade for Strings in C Major Opus 48
FJ Haydn, Quartet # 59 in G Minor ("Rider") Opus 74
E Grieg, Holberg Suite for String Orchestra Opus 40
A Schoenberg, Verklarte Nacht for String Orchestra Opus 4
2004
Performed June 10-13
F Schubert, Quartet in G Minor D 173 #9
"A Romantic Trilogy" compiled by Barry Lieberman
K Atterberg, Suite for violin, viola and string orchestra Opus 19
B Britten, Sarabande from Simple Symphony Opus 4
S Barber, Adagio from quartet Opus 11
D Shostakovich, Quartet #2 in A Major
WA Mozart, Quintet #2 in C Minor K 406
C Nielsen, Little Suite for strings in A Minor Opus 1
J Brahms, Quartet #1 in C minor
2005
Performed June 9-12
JS Bach, Art of Fugue
P Vasks, Quartet #4
J Brahms, Quintet in G Major Opus 111
F Mendelssohn, Quartet in A Minor Opus 13
Bizet-Sarasate, Suite from Carmen (arr Stephanie Chase)
R Schumann, Quartet in A Minor Opus 41 #1
2006
Performed June 8-11
LV Beethoven, Quartet in C Minor Opus 18 #4
P Sarasate, Caprice Basque, Romanza Andaluza, Ziguenerweisen (arr Stephanie Chase)
D Shostakovich, Quartet # 12 Opus 133
WA Mozart, Quintet in G Minor K 516
A Webern, Rondo (1905) Langsamer Satz (1905)
A Dvorak, Quartet in A flat Major Opus 105
2007
Performed May 16-20
G Bottesini, Quartet in Re Opus 4
E Grieg, Quartet in G Minor Opus 27
F Schubert Quartet in D Minor ("Death and the Maiden") D 810
FJ Haydn, The Seven Last Words of Christ H 3/50-56 (narrated by Michael Steinberg)
B Bartok, Quartet # 1 Opus 7
2008
Performed May 14-18
FJ Haydn, Quartet in F Minor Opus 20 #5
D Shostakovich, Quartet # 4 in D Major Opus 83
J Brahms, Quartet in A Minor Opus 51 #2
F Mendelssohn, Sinfonia # 9 in C Major
L Janacek, Idylla for String Orchestra
A Dvorak, Quartet in D Minor Opus 34